Read the whole piece on Jazzwise.com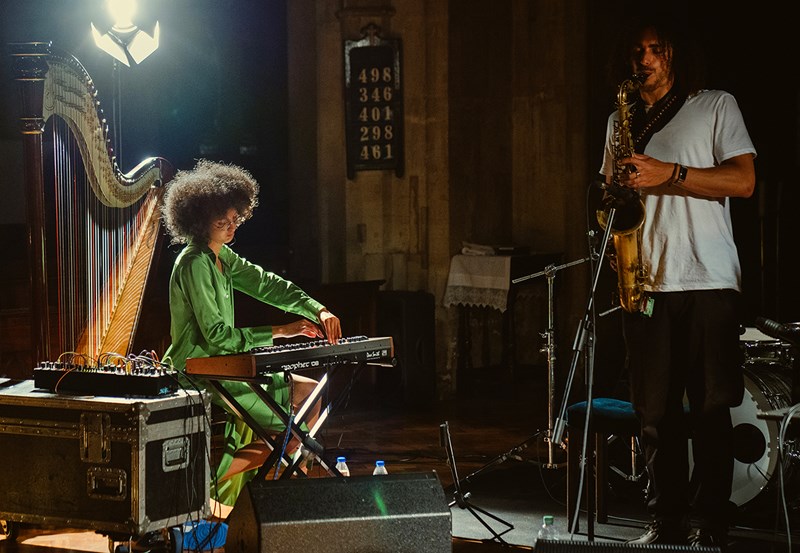 Nala Sinephro, the composer, harp player, and synthesizer maestra transported her audience from Stoke Newington to an effervescent, far-reaching beyond in celebration of her debut album release, Space 1.8 (Warp Records). Errol and Alex Rita of Touching Bass, the South London-based club night, concert series, record label and NTS Radio show, set the mood with DJ sets before and after, setting our heads for the journey we were about the embark on.
Nala, resplendent in lime green satin, took the stage with her band: James Mollison (tenor sax, pictured below), Wonky Logic (synthesizers), and Edward Wakili-Hick (drums). She plunged into the first set, taking everyone with her, weaving shimmering glissandos with heavy, low thrumming in a nine-minute solo. When Wonky Logic came in with bass, it was slow and subtle, seeping into a deep drone. Nala moved off the harp onto her own bank of synths, programming multi-planar, all-encompassing sounds, often unconfined by any strict rhythm but full of movement from the soundwaves themselves. I wondered if we could hear (but nonetheless sense) everything: one of Nala's influences is the frequency emitted by the Perseus black hole, a B-flat 57 octaves below middle C. While drafting this account of the night, I was wary of overdoing the outer space and celestial descriptors, but it is hard to convey the music's expansiveness scale without them.