Check out The Value of Everything by Mariana Mazzucato (honestly haven't read it but a trustworthy friend has).
First a bit about neoliberalism, privatisation, and financialisation
Margaret Thatcher, a mascot of cheap, racist, and callous policies, entrenched neoliberal ideology in British economics, politics, and society so insidiously during her tenure as Prime Minister between 1979-1990 that even critics may find themselves beleaguered by neoliberal logic. Every successive administration, Conservative or Labour, has retained skeletal local and institutional funding and a belief that competing for services and contracts yields the most efficient use of taxpayer dollars, and that inability to afford things reflects personal failure. Few people today, however, would probably call themselves neoliberals, and although the baldest neoliberal policies are pushed through by the right-of-centre politicians, leftists often unwittingly subscribe to the same underlying values causing the symptoms they're supposedly trying to prevent.
Neoliberalism boils down to market supremacy. It diverges with its predecessor, liberalism, in the belief that markets can best provide everything. A liberal (economically speaking, not to be confused with left-wing "liberal" politics) would believe some services should be publicly managed and provided, especially in the cases of monopolies or universally-needed infrastructures. Neoliberals, however, believe services or agencies, regardless of their function, should ultimately turn a profit, and this becomes the utmost performance metric. Deregulation and defunding lay the groundwork for privatisation, in which companies (often multi-national, or with international banks as majority shareholders) enter a new market carved out of a public enterprise or service. If the companies treat their new asset not as an asset in and of itself, but a financial product to earn returns for distant investors, privatisation is taken one step further into financialisation.
States and corporations form messy hybrids governed by labyrinthine contracts in which all parties – government officials, regulators, contractors, consultants, investors – can evade transparency and accountability to the general public. With slippery legal obligations and no sense of duty to the common citizenry, private actors can siphon wealth from one arena and re-invest it elsewhere, which keeps quality of service and workers' wages down. This is replicated within all kinds of organisations through outsourcing, in which essential infrastructural and operational functions are contracted to outside companies under the justification that it saves money and will "streamline" operations, although this is frequently not the case and often results in worker mistreatment.
These seemingly-administrative changes have profound social impacts. When interactions, services, and places are weighed only in terms of pecuniary value, they are reduced to transactions. Decision-making frameworks cannot recognise the intrinsic merits and long-term worth of social networks, art, culture, education, and shared, local connections to places, and so their damage is dismissed as collateral in the pursuit of maximised profit. Everything, everywhere, everyone becomes a "brand," a distilled identity with a distinct tone, aesthetic, and "message" largely performed online through images. The brand gets your attention-your awareness– and corporations are suddenly attributed with personality, or a "story" that requires constant maintenance. Attention is kept with novel gimmicks, products, and campaigns promising how the particular product can benefit your life.
Turning everything into a commodity renders everyone a customer. Consumption occurs at the individual scale. Neoliberal governments strive to erase the collective and replace it with the corporate. Thatcher said she didn't believe in society, only individuals and families. This is embodied particularly in selling public housing and social cleansing of neighbourhoods, crushing social and student movements, busting unions, and hiring private contractors to conduct some of the most consequential and violently administered civic undertakings, such as law enforcement and incarceration.
Where every aspect of life is at the mercy of largely deregulated markets, society itself is a market. Everyone is a consumer, the wealthiest of whom enjoy "products" like healthcare, housing, justice, and education more fully than those with less or no money. Here now we turn to a specific illustration of market supremacy and public/private entanglement through education by focussing on the marketing of London to international students through London & Partners, and a coalition of 24 UK universities called the Russell Group.
London & Partners
"London" as a cohesive, singular entity outwardly markets itself and courts deep-pocketed investors in specific foreign locations. The city is in large part so attractive to supranational investment because of the deregulated finance and insurance industries' anchors there (a direct result of its violent history as an imperial capital), but here I'm focussing on its actual branding and marketing, conducted by London & Partners.
The "Mayor's promotional agency" is a "not-for-profit" public-private partnership. Its mission is to "tell London's story brilliantly to an international audience in partnership with organisations and people who have a stake in London's promotion." About half its £27 million annual budget is provided by a grant from the Greater London Authority, a public body. L&P's financial reports only vaguely flesh out sources for the other half of its income, naming "other grants," "income from partners," and commercial income generated by subsidiaries like a .london domain, an app, and an events company.
Its "stakeholders" include the Mayor of London, ABTA (a travel association), London Chamber of Commerce and Industry, Society of London Theatre, and UK Hospitality. Ten "industry expert" board members are drawn from organisations like Boston Consulting Group, "luxury international retailer" Harvey Nichols, the Queen Elizabeth II Event Centre, King's College, a health-care startup, plus an "independent advisor and consultant to real estate investors and investment management funds."
London & Partners appears frequently as a footnote, cited in Greater London Authority texts like the 2019 Mayor of London's Culture Strategy. The Mayor backs up his plans for festivals and museum investment with data produced by the same company that would benefit from new flagship buildings and touristic spectacle. The Culture Strategy makes frequent mention of the Visit London app but does not clarify it's operated by L&P. The Strategy advises, relying on L&P's own circular evidence base, that London should host city-wide festivals navigated through the Visit London app.
According to its 2019 financial report, L&P's primary expenditure is staff costs. Besides the headquarters in Southwark, London & Partners operates thirteen international offices whose locations make clear its core markets. In addition to a smattering of European offices in France and Germany, London & Partners operates in Beijing, Shanghai, Shenzhen, Mumbai, Bangalore, three coastal American cities, and Toronto. Within the core markets-China, India, North America, France, Germany, and (notably last) the UK, L&P's business plan prioritises different sectors. Number one is the meaninglessly vague "Investment," followed by Trade and Innovation Programme, Business Tourism, Students, Leisure Tourism, and Brand (this last category, curiously, means that marketing is counted as achievement in and of itself, not a means to an end).
London & Partners, in some bizarre capacity between quasi-state and PR corporation, spends public money establishing investment consulates abroad, leveraging to its local advantage central government's miserliness and the UK's historic reputation as an academic powerhouse. In 2010 under the leadership of PM David Cameron, central government made "deficit reduction" its uninspiring and inhumane motto. This governing strategy has deadly consequences in the lived world, "austerity" taking precedence over imperative social goods. Funding for universities was slashed by the hundreds of billions, shifting the burden to students. University executives, who live comfortably on six-figure salaries, tripled fees for domestic students to £9,000, saddling young people with years of debt before they began their careers. International fees also skyrocketed. Today, foreign scholars are high-end "consumers" sought by agencies like London & Partners, paying fees inflated twice or thrice the domestic rate to buttress university budgets gutted by central government. L&P's 2017 economic report says that between 2011-2017, the city's universities milked 25% more international students than in pre-austerity times.
The prestige of British higher education is commodified and exported; various institutions, such as University of Nottingham, appear in far-away places decidedly not Nottingham, such as Ningbo, China. On the island, however, exploitation of the public revenue vacuum is not without domestic consequences. This Observatoire de la Société Britannique article talks about how austerity in education impacts a "younger generation in a way that has the potential to destabilize their personal and professional lives now and in the future," particularly those from lower-income backgrounds, for whom higher fees are another cruel facet of central government abandonment. The reliance upon student fees for university income also shuts out would-be international students from less wealthy nations, especially former colonies of the barbaric British empire. Last week, a professor told me the number of students from countries like Ghana and Nigeria has plummeted in the past decade.
Mayor Sadiq Khan parrots narratives celebrating the diversity and "vibrancy" of London, but its 8.5 million people are apparently too shallow a resource pool for the city to thrive. London & Partners' existence is predicated on the idea that foreign direct investment will secure "high-value" jobs in London, and its own generous performance evaluations boast success. In its quarterly report, L&P reports the number of visitors and sign-ups to its website for international students. In annual reports, L&P leads with statistics about jobs created and international students. Jobs are tallied as a discrete number: 3,559. How many international students were there? £22 million.
Let's now turn to another peculiar entity, this one formed of 24 universities, with a founding "story" combining L&P's markets for hospitality, business tourism, and higher education. During Thatcher's reign and in the years after, executives of UK universities would convene at the Russell Hotel prior to meeting with legislators in London. In 1994, they formalised their relationships, and today are headquartered in another expensive central London postcode. Let's take a look at the Russell Group.

3. Russell Group
The Russell Group's own website does not immediately pin down what, exactly, it is, but instead introduces who it "represents" and a bland set of corporate beliefs that mean nothing:
"The Russell Group represents 24 leading UK universities. We believe people and ideas are the key to meeting global challenges. Through world-class research and education we are helping to create a dynamic economy, stronger communities and a better future for the UK."
Board members are the executives of large universities in Belfast, Cardiff, Edinburgh, Glasgow, Newcastle, Manchester, Leeds, Birmingham, and Bristol, plus the ancient ones like Oxford and Cambridge, as well as prominent London schools like the London School of Economics, Imperial and King's Colleges. Collectively, they write policy documents with a parliamentary audience and pocketbook in mind. Many policy statements are tepid and seem to merely admire problems, like this one about the fraught instability of short-term contract employment offered at their institutions. The policy headers alone are corporate word salads promoting deregulation (Regulation: Autonomy is crucial to the success of our universities – they will not flourish if they are over-regulated), abdicating social responsibility (Access and inclusion: The under-representation of talented students from certain backgrounds has deep-rooted causes which we cannot solve alone), and lionizing business (Economy: Collaboration with business is a key part of the work of our universities but Government could foster more innovation). It is ironic a bloc of 24 universities appeals for autonomy, but we are focussing here on the last two points, and how they reinforce higher education's commodification.
Vikki Boliver, a sociologist at the Durham University (a Russell Group school), has written critical several papers on the Russell Group. She found lower-income British students are discouraged from applying to these schools because of skyrocketing fees, and that Black and Asian British applicants did not receive offers of admission proportional to their qualifications and were thus underrepresented. The Russell Group garners its self-proclaimed prestige more from successful branding than actual research success, compared to non-Russell Group unis. Although Boliver found that Oxford and Cambridge do comprise their own elite tier, for the majority of Russell Group schools, simply claiming they are "leading" or "elite" is just surface branding. Their research, teaching, and overall performance are comparable with other UK universities.
Nonetheless, the wealth of the Russell Group is staggering. They receive roughly half of all higher education income in the country. Making an offhand yet informed guess, their combined income, assets, investments, and endowments likely wade into the tens of billions. Although the Russell Group takes the bold stance that "people and ideas" will solve problems, the Group posits its accomplishments in terms of income earned through research grants and student fees. The Russell Group delineates research into six broad categories, through which the hundreds of millions of grants and income will equip researchers to "meet global challenges." It makes sense, then, why its executives lobby central government for funding. The Russell Group's own reports, however, only speak in generalities about the importance of "the research" or the humans conducting it, and instead hone in on the fruits of its lobbying.
Russell Group's website signposts the visitor to its 63-page economic impact report, published in 2017. Foreign students are referenced not for the intrinsic value of having international classmates or varied perspectives they bring to courses, or even their potential to fill "high-value jobs" London & Partners credits itself for creating. Instead, the chapter dedicated to them addresses their fees. In a small humanising step above London & Partners, overseas students are quantified as actual humans rather than a sum total of pounds (just under 100,000 students in 2015-16), but subsequent sections parse into granular detail the average income generated by these highly-desired student-customers (strangely and confusingly referred to as "exports"), separating out income from tuition, other fees, and degree type. It estimates seven non-UK undergrads generate £1 million for the economy. At the aggregate level, all these high-paying customers from China, India, across the EU, and North America brought £4.8 billion to the British economy in 2015-16, which in an infographic is incongruously compared to building nine Olympic stadiums.
The Russell Group staunchly supports student fees and leaving them uncapped to future increases. The report makes no mention of any other use for international students. Rather than dither over if the Russell Group actually cares about its overseas cash cows, let's look at how the Russell Group and another coalition, the University of London, align themselves with the holiest of all neoliberal institutions, the business.
Neoliberalism is bad for students, and it's bad for employees, too. Corporate Watch scrutinised the University of London, itself not one school but a federation of 17 universities that pools resources, four of which are also in the Russell Group. In spring 2019, 250 front-of-house workers, such as security guards, catering staff, and cleaners, went on strike (they were represented by their union, Independent Workers of Great Britain) and demanded to be hired directly by the UoL, rather than through exploitative outsourcing companies. Senate House Library became the boycott site, a massive building frequented by students representing the overlapping UoL-Russell Group members.
UoL declined. Executives who earn eleven times more than the average cleaner said that despite £45 million cash in the bank, it was unaffordable. Exemplifying strong ties between "business" and university, UoL relied upon a report produced by the Russell Partnership (not related to the Russell Group), a massive global food service consultancy staffed by former executives of ubiquitous outsourcing villains like Aramark and Sodexo, who cater and clean in war zones, prisons, hospitals, and universities all around the world. The Russell Partnership's estimates of the costs of hiring these workers in-house were jarringly higher than comparable reviews and actual in-house hiring at other London universities, but UoL refused to make this review public.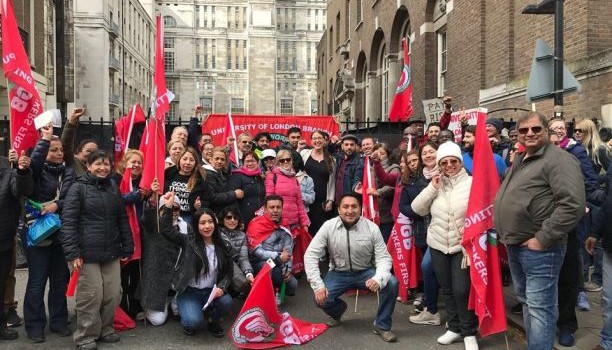 Conclusion
This is a small glimpse into the commodification of British universities, and the foresight and long-term visions their leaders lack when they cannot see beyond immediate budget dilemmas caused by austerity and worsened by their own privatisation endeavours. Domestic disinvestment spurs a cannibalistic cycle of foreign "investment." The construction of student housing by private developers, rather than universities themselves, is another example of neoliberalism compounding itself within the hyper-extractive sector of real estate development. Working-class Brits, whose housing is increasingly jeopardised by financialisation of land and housing, are deterred from seeking higher education because of its obscene cost.
In British lecture halls, students are perplexed by classmates with little command of the English language. If their last names hint at the right nationalities, they'll receive emails from companies with access to the school directory, seeking clients in professionalised markets for essay writing. Elsewhere in the world, in countries that do speak English as a legacy of Britain's brutal colonialism, students are denied access to cities and institutions built with the labour of their forebears because they cannot afford the international fees.
Privatisation and financialisation are a wealth-extracting, not wealth-generating, processes for the public. While the British university is marketed and reproduced abroad, these institutions devalue themselves and cheapen their degrees through undignified contracts for operational employees, faculty who knowingly admit unqualified students, and the unrestrained power of market forces to fleece people out of knowledge.