Taking Off profile originally published in the June 2020 issue of Jazzwise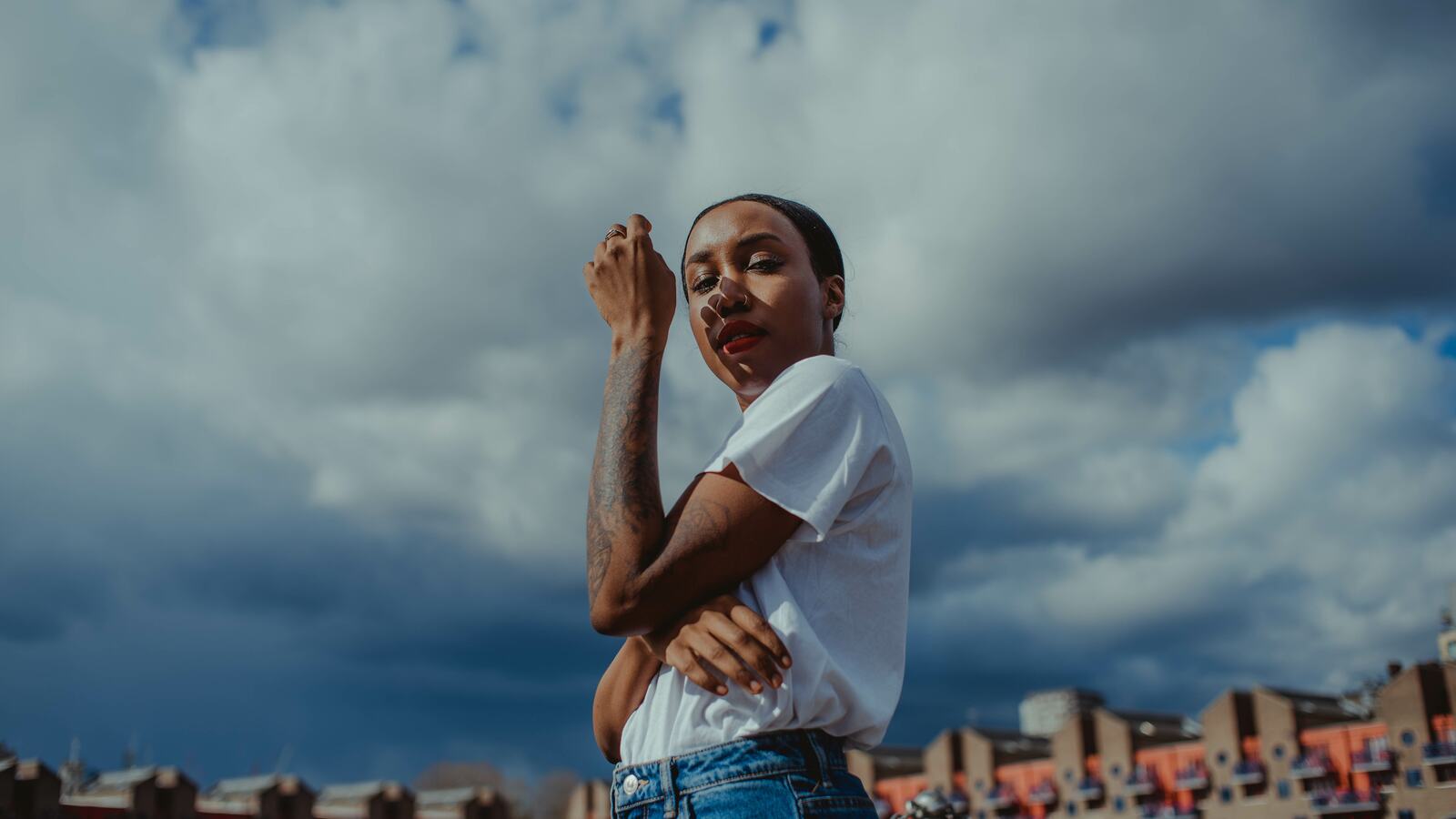 Ego Ella May is not taking off as much as steadily cruising. The South London singer, guitarist, and songwriter's second album, Honey For Wounds, debuts this summer following her first, So Far, released in September of last year. Honey for Wounds is a soul and jazz album unique for slyly wrapping acerbic political observations in May's silky turns of voice and celestial beats.
May learned guitar a year after she started singing-an inevitable necessity so she wouldn't be dependent on other musicians for accompaniment. "It improved my writing. Your ear strengthens. I could sit down by myself, play some chords, and come up with interesting melodies. It was freeing. Before, I was writing with beats someone else sent me. I couldn't really do what I would have wanted to vocally, or take it to another place, because it was already formed." By gaining more musical autonomy, her collaborations strengthened. "I started writing first and then was able to take it to people who helped develop it." 'Tonight I'm Drowning' is such an example. After working on it with Wu-lu, she brought in Ashley Henry (piano) and Andrew Ashong (guitar) to draw out its soft, haunting harmonies.
As for the album's satisfyingly wry, poetic lyrics, May credits her passion for reading as the foundation of her own writing. Authors like Zadie Smith, Chimamanda Ngozi Adichie, and bell hooks inspire her, and she reads poetry in abundance. "I've always been a lover of words. Whenever people ask for advice on how to write songs, I always say that you have to read to write. I love reading stories, and as song-writers we are storytellers. I've always got my head in a book or poetry." She also reads biographies of musicians but cites a dearth of role models navigating the music industry the way she does herself.
"I've never been a musician who eats, breathes, sleeps music all the time," she said. "I used to feel like I had to be constantly writing, or in the studio, or taking a photo with someone in the studio or with someone who is killing it. All this stuff that makes you look like you're doing something." She eschews endless self-promotion and vapid sex appeal frequently demanded of young women. "This is what works for me. Maybe I can be an example for someone else." She admires the singers of earlier neo-soul generations who keep a lower profile and only release music when they have something to say. "I understand [the music industry], and it's not a one-size-fits-all. As time's gone on, it's made me even more adamant to do things my way."
May certainly has something to say. One might assume an album that lays bare societal ills with searing precision ("so I guess I'll raise the issues with a nice beat behind me, singing it sweet so you'll still buy me," she coolly explains in 'Girls Don't Always Sing About Boys') would have an rougher, heavy-handed edge to it, but the album's title is spot-on- Honey for Wounds is smooth and soulful. "Heartbreak sells, and a good beat sells"- Honey for Wounds has a bit of the former and a lot of the latter, and is imbued throughout with emotional honesty and complexity. May described music as her therapy, and intends her music to be healing. "I want people to listen to it and feel calm. I don't want people to feel anxiety even though I'm saying these things. Being able to make an album which is still really relatable and talks about issues, but you still feel calm listening to it, it's quite nice. I'm proud I finished it."
Hearing someone else's worries-climate change, income inequality, homelessness, mental health, and justice for Grenfell victims-is indeed comforting. "I don't even delve into the topics I list," she said. "Even just saying I've been thinking about how homeless women get sanitary kits is a powerful thing for people to hear." Although she talks about the big-picture injustices and oppression, the album gets personal. It's not all commiseration-May muses on the individual's complicity in perpetuating the same systems that result in us being "taught to hate ourselves and others." Her call to action on 'In the Morning' is powerful for the equanimity with which she delivers it: "I've got things to learn, I've got fears to burn…in the morning, we can start over."
Jazzwise spoke to May in the midst of the coronavirus pandemic, making the melancholy second single off Honey for Wounds, ''How Long 'Til We're Home,' eerily prescient. ("Breaking news at 6pm, disappointed by government, rich get richer as poor ones weep, same depiction on every screen, and it's like the whole world is running away from the burn.") When asked about what she hopes the long-term effects of the pandemic are, she said, "We need to be fairer to freelancers. Going forward, I hope we're more understanding of people's feelings. We're feeling different emotions, and we just need to show compassion for everyone. There's always reasons for how people are feeling, whether they're overreacting or underreacting. Spreading lots of peace and love to everybody."